Is your small business struggling to stay afloat in a post-pandemic world?
It's no secret that COVID-19 has had a lasting negative impact on the world as we know it.
Over the last 3 years, this global pandemic has wreaked havoc on the minds and bodies of people from all walks of life and backgrounds. Studies have shown an overarching increase in stress, fear, anxiety, sadness, loneliness, and substance abuse in the aftermath of this devastating virus.
With over 43% of small businesses having to either temporarily close down or completely shutter their operations, small business owners, entrepreneurs, and self-employed professionals have been one of the hardest hit groups.
You have had to deal with stay-at-home orders drying up local foot traffic, supply chain disruptions, rising costs, and a shift in consumer buying behaviors, needs, and interests. You may have pivoted to survive or struggled hard to stay afloat.
It's safe to say that we are now faced with a new normal as business as usual has been forever changed.
The Biden administration recently announced plans to end COVID-19 pandemic-related public health emergency declarations this May. This means that many of the set asides and other small business supports that were in place for suffering businesses are now going away.

If you are like the majority of my small business clients, you are proabably asking yourself, "now what"?
You need a new plan and you need it fast!
I heard you and you are not alone.
This is why I put together a special Pivoting & Profiting Post-Pandemic Breakthrough Strategy Session!
What you get...
During your 90-minute breakthrough strategy call, you and I will work together to:
clarify your vision

set SMART goals

uncover hidden challenges or obstacles standing in the way of your success

develop a next step action plan
My hope for you is that by the end of the call, you will not only walk away with greater focus, but you will also know exactly what your next steps should be to maximize your profit in a post-pandemic world.
But that's not all!
In addition to the call, you will get unlimited email support for 30 days after your call. You can use this support to ask questions around your next-step action plan, get consultative advice about opportunities and threats related to your vision, or request additional resources and referrals to accelerate your professional learning and growth!
This session is for you if...
you want to attract more cutomers and increase sales

you need to find new ways to reduce costs and maximize profit margins

you know your current marketing strategy isn't working and need to pivot

you're unclear how to move forward in this new economy

you're feeling stuck, lost, overwhelmed and thinking about quitting your business

you're in startup mode and don't know the best way to enter the market
What others have to say about working with me...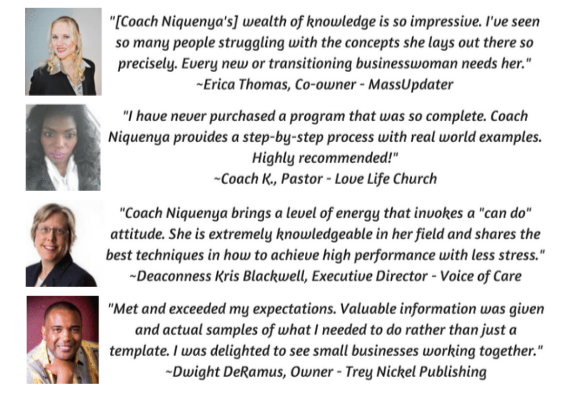 SPECIAL SELF-CARE BONUS IF YOU ACT NOW!
One of the most difficut challenges of being a small business owner is that you are often wearing multiple hats, bootstrapping your business, and taking very little time out to just breathe. This can lead to burnout, extreme exhaustion, and ultimately failure! Let me help you to get recentered, refocused, and relaxed!
If you act now before February 10th, I will send you a certificate that can be redeemed for a free trip* that incudes airfare plus a 2 nights hotel stay for you and a guest.
Here are 7 reasons you should take me up on this exciting offer:
makes you healthier

relieves stress

enhances your creativity

boosts overall happiness and satisfaction

lowers the risk of depression

no blackout dates

no sales presentations
Watch the video linked HERE to learn more!
Niquenya Collins is a Master Business Coach and Life Skills Strategist with over 25 years' experience transforming dreamers into successful entrepreneurs and leaders into effective agents of change. She specifically seeks out individuals with bigger-than-life visions who want to stop wasting time, monetize your talents, and finally generate the income your brilliant ideas truly deserves.
Areas of Expertise
Entrepreneurship, Small Business Startup, Growth & Development

Nonprofit Startup, Management & Board Development

Talent Acquistion, Employee Engagement & Workforce Development

Sales, Marketing and Public Relations

Brand Development, Storytelling & Impact Awareness

Fundraising, Grants & Capital Development

Executive Transitions to Leadership

Personal Finance, Wealth Creation & Legacy Building
As a result of partnering with Coach Niquenya, small business owners, aspiring entrepreneurs, nonprofit leaders, and C-Suite executives get connected to their passion, purpose, people, and processes to propel you to profit faster than you ever could on your own.
Don't miss out on this opportunity to maximize your profit potential in a post-pandemic world!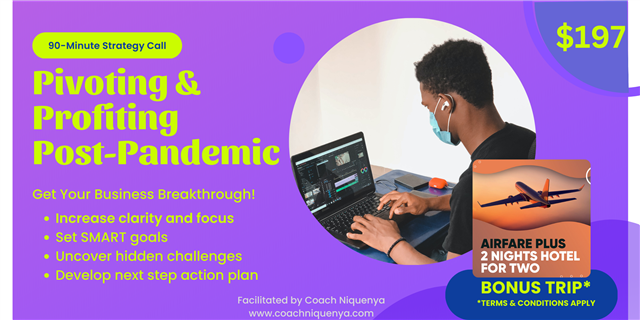 You will receive an email with a link to schedule your session within 24 to 48 hours of successful payment submission and clearance of funds. Emails will be sent to the address on file with our payment processor. Should you not receive an email, please contact support@coachniquenya.com with your transaction number.